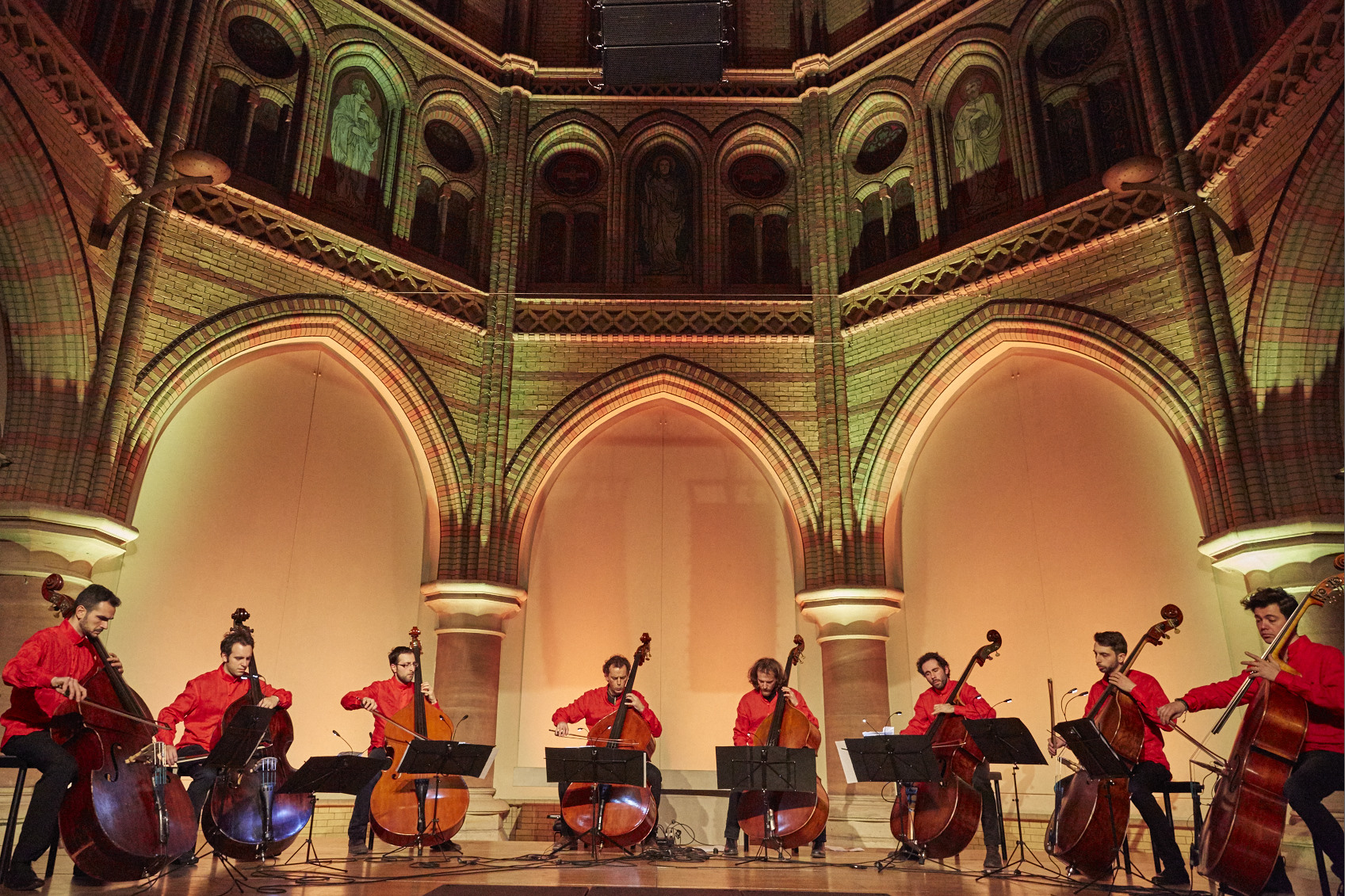 Ludus Gravis is a double bass ensemble devoted to new and contemporary music as well as the revisitation of ancient music.
It came to life from the encounter between Stefano Scodanibbio and Daniele Roccato and made its debut at Auditorio Nacional de Madrid in March 2010.
It is often involved in projects that can include live electronics, theatre, literature, dance and film, along with open form and improvisation. The Ensemble also performs with orchestral accompaniment.
The number of members is usually eight but varies from four to twelve depending on the program.
Ludus Gravis recorded for ECM and WERGO and made broadcast recordings for Rai RadioTre, Sky ARTE.
It has worked closely with Gavin Bryars, Julio Estrada, Sofia Gubaidulina, Hans Werner Henze, Terry Riley, and collaborates with writer, playwright and actor Vitaliano Trevisan.
The ensemble took part in international festivals, such as La Biennale di Venezia, Ravenna Festival (Ravenna - Italy), Musica D'Hoy (Madrid), Rassegna di Nuova Musica (Macerata - Italy), I Concerti del Quirinale di RadioTre (Rome), AngelicA (Bologna - Italy), Società Aquilana dei Concerti "B. Barattelli" (L'Aquila - Italy), Associazione Alessandro Scarlatti (Napoli - Italy), Festival Màntica (Cesena - Italy), Imago Dei (Krems - Wien), Music of Changes (Klaipeda - Lithuania), Gaida (Vilnius - Lithuania), I Cantieri dell'Immaginario (L'Aquila – Italy), Unicum(Ljubljana - Slovenia), Borealis (Bergen - Norway), Vinterfestuka (Narvik - Norway), Ad Lucem Introvert Art Festival (Riga - Latvia), Suså Festival (Naestved - Denmark), Lux Aeterna (Hamburg - Germany), VI Ciclo de Conciertos de Mùsica Contemporànea (Bilbao - Spain), Fundaciòn BBVA (Madrid).


Stefano Scodanibbio - co-founder
Daniele Roccato - principal double bass and music director
Stefano Battaglia, Rocco Castellani, Paolo Di Gironimo, Simone Masina, Andrea Passini, Giacomo Piermatti, Francesco Platoni, Alessandro Schillaci, Mauro Tedesco - double basses

collaborators:
Tonino Battista - conductor
Vitaliano Trevisan - voice narrator
Fabrizio Ottaviucci - piano
Laura Mancini - percussions
____________________________________


L'ensemble di contrabbassi Ludus Gravis è dedito allo sviluppo e all'esecuzione della musica attuale e alla rivisitazione della musica antica e rinascimentale.
Nasce dall'incontro fra Stefano Scodanibbio e Daniele Roccato e debutta nel marzo del 2010 all' Auditorio Nacional de Madrid.
La sua attività spazia nei campi del teatro, della danza, della letteratura, della poesia, delle arti visive e del cinema muto. L'ensemble suona anche con accompagnamento d'orchestra e con live electronics.
Il numero di componenti è generalmente di otto ma varia da quattro a dodici in relazione al programma.
Ha registrato per ECM, WERGO, RAI RadioTre e Sky ARTE.
Ludus Gravis ha lavorato a stretto contatto con Gavin Bryars, Julio Estrada, Sofia Gubaidulina, Hans Werner Henze, Terry Riley, e con lo scrittore, drammaturgo e attore Vitaliano Trevisan.
L'ensemble ha suonato in festival internazionali come La Biennale di Venezia, Ravenna Festival, Musica D'Hoy (Madrid), Rassegna di Nuova Musica (Macerata), I Concerti del Quirinale di RadioTre, AngelicA (Bologna), Società Aquilana dei Concerti "B. Barattelli" (L'Aquila), Associazione Alessandro Scarlatti (Napoli), Festival Màntica (Cesena), Imago Dei (Krems - Vienna), Music of Changes (Klaipeda - Lithuania), Gaida (Vilnius - Lithuania), I Cantieri dell'Immaginario (L'Aquila), Unicum(Ljubljana - Slovenia), Borealis (Bergen - Norvegia), Vinterfestuka (Narvik - Norvegia), Ad Lucem Introvert Art Festival (Riga - Lettonia), Suså Festival (Naestved - Danimarca), Lux Aeterna (Hamburg - Germania), VI Ciclo de Conciertos de Mùsica Contemporànea (Bilbao - Spagna), Fundaciòn BBVA (Madrid).


Stefano Scodanibbio - co-fondatore
Daniele Roccato - contrabbasso principale e direttore artistico
Stefano Battaglia, Rocco Castellani, Paolo Di Gironimo, Simone Masina, Andrea Passini, Giacomo Piermatti, Francesco Platoni, Alessandro Schillaci, Mauro Tedesco - contrabbassi

collaboratori:
Tonino Battista - direttore
Vitaliano Trevisan - voce narrante
Fabrizio Ottaviucci - pianoforte Laura Mancini - percussioni